Advertisement on the boards of ISUZU buses
From
920
*
thousand soums per month
We place advertisements on the tailgales of ISUZU buses in Tashkent. The format of advertisement is 290х122 cm (right side), 560х122 cm (left side). We make advertising layout, printing services. We carry out continuous monitoring of advertising.
* The cost is indicated without taking into account the manufacture, installation and dismantling of the Advertising and Information Material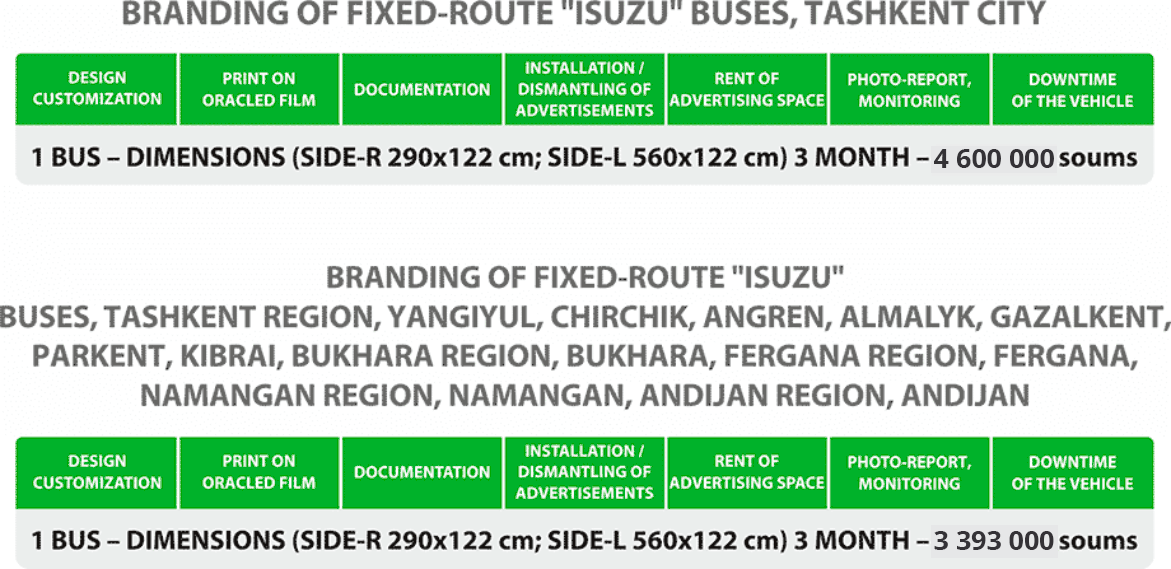 OUR COMPANY OFFERS A NEW TYPE OF SERVICE - NIGHT MONITORING!
At the request of the client, we provide the opportunity to make a night tour with the representative of the Customer's company to Automotive enterprises for visual monitoring of the number of branded vehicles - according to the Contract and the quality of promotional material.
Branding of fixed-route "ISUZU" buses, Tashkent city and Tashkent region, Yangiyul, Chirchik, Angren, Almalyk, Gazalkent, Parkent, Kibrai, Bukhara region, Bukhara, Fergana region, Fergana, Namangan region, Namangan, Andijan region, Andijan.
Another type of advertising on transport is advertisement on buses. It is also an effective and inexpensive way to promote services and everyday goods in the market.
Advantages of advertising on buses:
Maximum territorial coverage, availability to the consumer in different parts of the city;
Effective impact on transport and pedestrian flows;
Does not cause irritation;
Located at the eye level of consumers;
Holistic perception of advertising (compact advertising surface of the vehicle provides good memorability);
Does not require a lot of money.
Another advantage of it is high level of recognition and memorability: the speed of public transport is quite low, advertising contact can last from 12 to 18 seconds. And during bus stops the bus turns into a stationary advertising structure and the advertising contact is increased to 3-5 minutes. Memorability depends on the convenient location of advertising images on the human eye level as well.